International AR News letter Nov 2006

Get The Essential Expert or Beginner Adventure Racing Advice To Help You Enjoy Racing In The Shortest Possible Time.
20/11/2006 -- Issue 7
In This Issue:
2. Bike And Run Oman Adventure
Apologies The newsletter was suspended for a couple of months due to my relocation, the December newsletter is expected also to be delayed due to reporting commitment of Oman Adventure race.
================ FEATURE EDITORIAL =============
=================================================
AR World Championships
The World Championships were held in Sweden during August and as promised the 32 teams offered some excellent racing.. The race started in Latvia and also crossed into Norway
.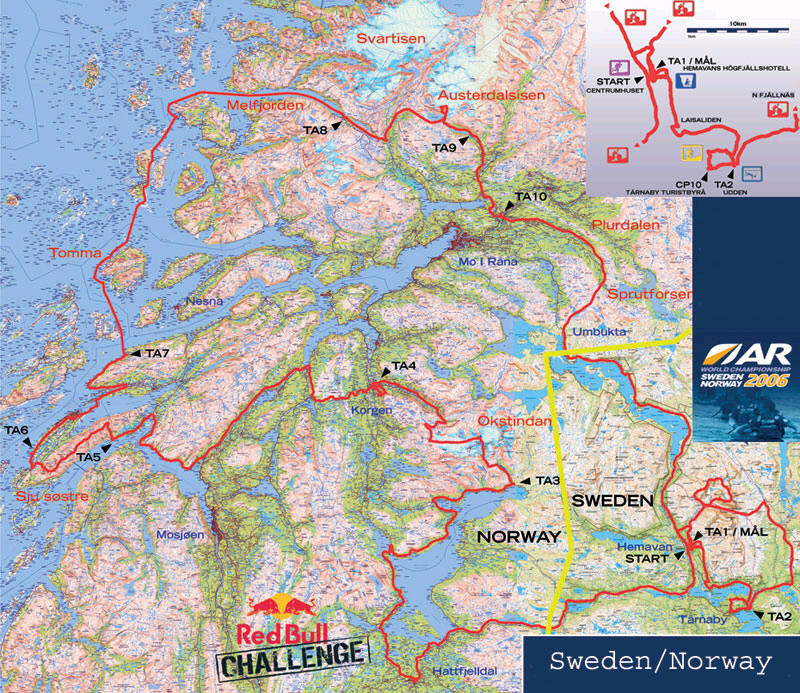 Local Scandinavian teams had an advantage of knowing the conditions, Team Finland being one of the local favorites but facing a strong challenge from Nike Powerblast, Golite Timberland and Merrel Wigwam. the start featured a run then a 2KM uphill on inline skates with Swedish team Lundhags in the lead followed by Merrel Wigwam. the first day featured mountain biking canyoning and orienteering with Nike Powerblast taking the lead in the biking only to drop back behind team Finland at night.
Dawn on the 2nd day saw Lundhags in the lead followed by British team Aberdeen Asset Management. the feature of the day was the Red Bull challenge a 100m Zip Line, this caused a bottleneck, some teams selecting to sleep whilst waiting their turn. TA 3 saw the leading teams resting and allowed Nike to take the lead followed by Golite, Team Finland and Lundhags who had grabbed some sleep on the mountain stage. Aberdeen Asset Management to wait until daylight.
Day 3 heralded a tough Orienteering section at the end of which Team Finland and Nike grabbed log cabins to organise their gear, whist Aberdeen Asset Management and Golite continued. Aberdeen Asset Management withdrew during this 12 hour trek and Team Finland arrived at the TA 4 some 1 hour ahead of Nike.
Day 4 Four leading teams, Finland, Nike Lundhags and Merrel Wigwam continue to dominate the race team Finland had a two hour lead over Nike, but all this was to change as Nike Powered through the long paddle and then with Richard Usher Towing Ian Adamson during a 350M accent they closed down the Finns.
Day Five the two leaders were neck and neck as they raced across the Austerdal glacier , Golite Timberland slipped into third place ahead of Lundhags who grabbed some sleep on the trail.
Day 6, Nike Powerblast lived up to their name and stepped up the pace as a tiring team Finland were dropped during a long trek, canyoning and caving stage. Lundhags and Golite were having a close battle for third. Nike Powerblast completed the race in 5 days 2 hours and 22 minute to be crowned world Champions. A Tired team Finland arrived some 77 minutes ahead of home team Lundhags who managed to keep Golite Timberland at bay to claim the final podium place.
The question after this race was if Nike Powerblast could continue their winning ways in Canada to complete a clean sweep of top races.
The Raid World Championships Canada
The 26 teams who qualified by top placing in the world series of short courses, faced a mammoth 986 K expedition race to decide which team would be crowned raid champions some 600K was mountain biking and 71K of canoeing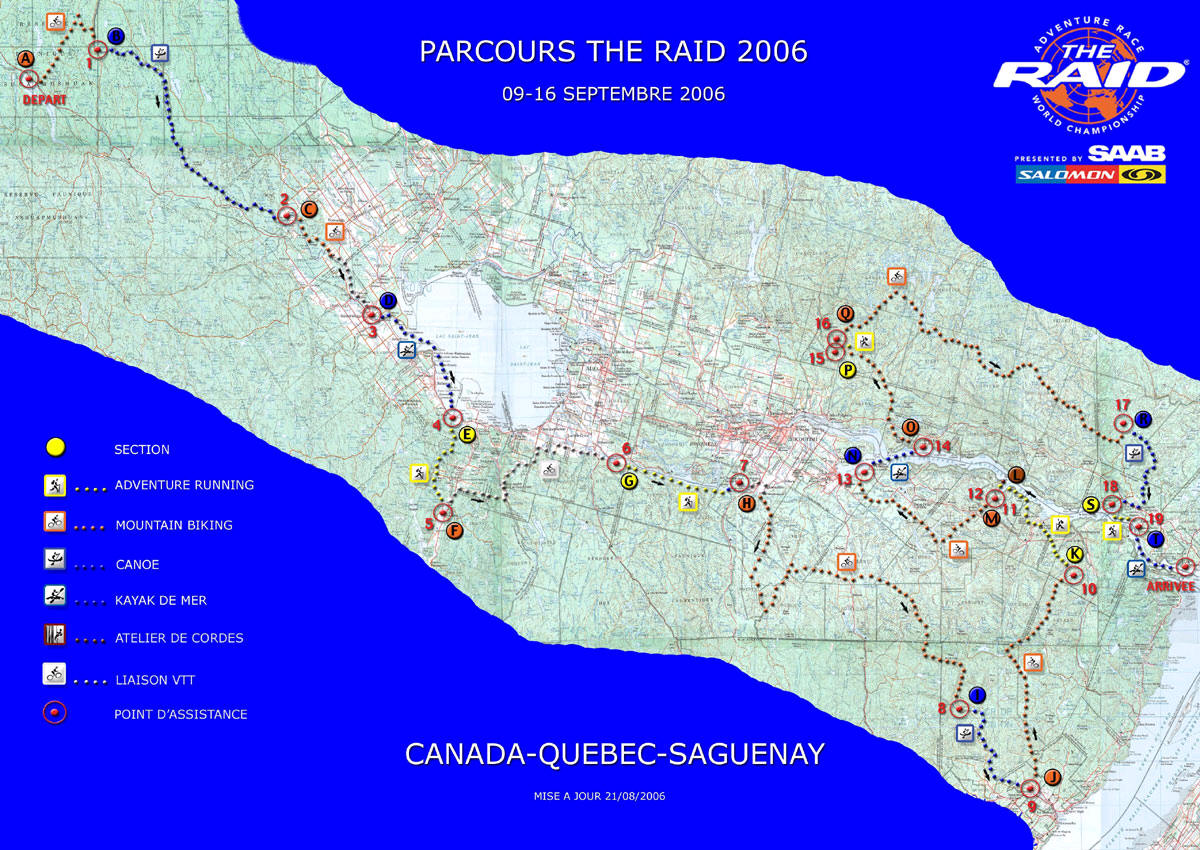 The race started in the early morning with mountain biking leading on to the first paddling section where dark zones were to be enforced.

Les Arcs Quechua and Wilsa Helly Hansen led out the first 10 teams with Nike Powerblast and Golite Timberland in close contention at the end of the paddle. .Les Arcs Quechua recorded the fastest time. going the first night, sleeping tactics came into play as teams had to rest for at least 24 hours during the race, this made it hard to determine who the leaders actually were. At CP 20 Wilsa Helly Hansen were leading on the ground ahead of Spyder, Golite with Nike in 5th place.

Day 3 saw a mammoth 140MTB leg rising over 2000m and a dark zone kayak leg. This was a make or break leg as teams had to be off the water by 1900hrs.. The Malbaie River, proved a difficult task with little water which slowed the teams up taking them twice as long Wilsa Helly Hansen continued to lead with Nike Closing up to third place. Six teams made the break Wilsa Sport Helly Hansen, Les Arcs Quechua, Nike Powerblast, Golite Timberland, Sport 2000 Lafuma and Spyder leaving Saab Salomon, Salomon Crested Butte and Adidas Natventure to spend the night somewhere on the river..

Day 4 saw another dark zone cut off at the 270 Abseil and it was here that Nike moved into first place with Wilsa Helly Hansen incurring a penalty for taking the wrong route in the previous days MTB and also getting lost for an hour. The big shock of the day was the abandonment of Saab Salomon owing to Phil Davies, their biking powerhouse damaging his knee.

Day 5 saw Nike consolidating their position ahead of Wilsa Helly Hansen and Les Arcs Quechua. and Golite Timberland, the dark zones having split the field into three groups, After the night mountain biking 58K, the leaders slept on the banks of the bay while behind them the French team Les Arcs Quechua got lost, losing some 90 minutes . The third team in this leading trio, Wilsa Sport Helly Hansen, after resting at the end of the rope-works, flew onto the MTB course covering the 58km in a little over 4 hours; almost one hour faster than Nike Powerblast.

At 06:00 this morning, after a 6-hour rest, Nike were first onto the sea-kayaks, followed 44 minutes later by Wilsa Sport Helly Hansen, who came straight off the bikes and into the boats. Les Arcs Quechua opted to rest 5 hours leaving a couple of hours later. Taking advantage of the ebb tide, they all enjoyed a calming, current-aided paddle across the River Saguenay. the scene was thus set for the final day.

Day 5 Nike Powerblast paddles across the finish line to pick up their 2nd world championship ahead of Wilsa Helly Hansen who clung onto 2nd place ahead of Golite Timberland Les Arcs Quechua rest strategy letting them down and the eventually finished.

Next Month will see a report on Ecomotion Brazil

=================================================

2) Bike And Run Oman Adventure

=================================================

The second addition of Gerard Fusils, Oman Adventure will be held in Oman a week before Christmas. The race is a stage race with competitors sharing one bike between them, the favourite tactic being one member of the team cycling a few hundred yards, before dropping the bike and starting to run. the second team member runs and picks up the bike and leapfrogs their team mate. Some pairs are entered including the defending champions Wisa Sport Helly Hansen. Local hopes rest with last years second placed team, who now both have new partners. Daily reports and pictures can be found on the website http://www.authentiqueaventure.com/SPIP-v1-8-3/rubrique.php3?id_rubrique=5

=================================================

=================================================
Field and Trek Winter Catalogue now available, Click Here get you new trail running shoes today
Automatic Online Backup
Use this free tool to save important data, photographs etc online and back up your e-mail system
=================================================
=================================================
We would love to hear what you think of this issue of International AR Newsletter. And of course, if you have any suggestions for upcoming issues that you'd like to share with us, please send those, too! Just e-mail me at: Contact International Adventurers
=================================================
David is a Master Adventure Racer and manages and races, reports on races from around the world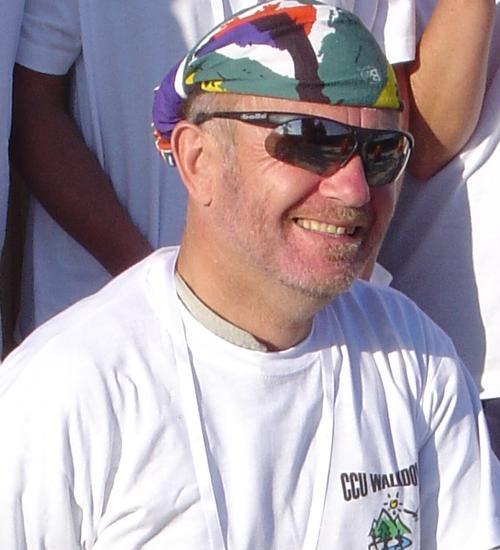 and has published an e-book A-Z of Adventure Racing.
How to have fun, keep fit and travel the world, whilst expedition adventure racing. It's not the winning it's the taking part and you can do it too.